Sunmed ABOVE Delta-8 CBD Oil 1000mg – Tropical Kiwi
Sunmed ABOVE Delta-8 CBD Oil is a 1:1 ratio of CBD and Delta-8 THC, made with the highest quality, organically grown hemp from Denver, Colorado. It is registered with the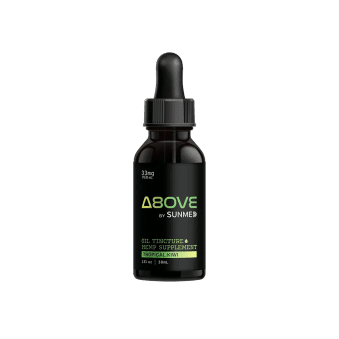 Colorado State Department of Agriculture.
The phytocannabinoid-rich (PCR) hemp has a naturally high CBD level, as well as an abundance of other cannabinoids (CBG, CBN, CBC, <0.3% THC), flavonoids, terpenes, and essential amino acids.
We use a supercritical CO2 extraction process, eliminating the need for chemical solvents and producing a high-quality, full-spectrum distillate. Our complete cannabinoid profile offers an actual entourage effect.
Sunmed Above CBD Oil w/Delta 8 THC delivers a potent, one-of-a-kind, uplifting, and motivating feel with a calming body sensation.
This extract contains CBD and Delta-8 THC, with an excellent array of CBG, CBD-V, CBC, and Delta-9 THC. They deliver a powerful head and body feel that makes you feel fabulous. Let yourself be taken away by the breeze of tropical Kiwi.
Manufactured in the USA
Full Spectrum <0.3% Delta-9 THC
PowerTERP blend (1000mcg)
All Natural
Organic Ingredients
17mg Delta-8 THC per 1mL
17mg CBD per 1mL
33mg Total Hemp-Derived Cannabinoids per 1mL
Serving Size: 1/2 dropper (0.5mL)
Servings per container: 60
Directions: Do not exceed 1/2 dropper per 4 hours or three servings (1.5mL) per 24 hours.
Volume: 30mL / 1 fl. oz.
What's unique about this line?
SunMeds ABOVE CBD Oil products include a blend of cannabinoids featuring delta eight THC. Delta 8 binds to the CB1 receptors in the body in ECS or Endocannabinoid system.
It delivers a gentle body feeling (perfect for those who want to feel moist after a long day at work). Other products may include a delta-eight isolate (delta-8 alone).
Above by SunMed is a cutting-edge new blend combining Delta-8 with the robust cannabinoid profile in our hemp extract.
Skip the dispensary and experience the full hemp entourage effect at a new level.
Please review our other Sunmed Delta 8 THC Products on our sister site.
YOU MUST BE 21 OR OLDER TO PURCHASE THIS PRODUCT.
Also, be sure to try our best-selling:
Sunmed Above Delta-8 gummies to compliment your oil or our Sunmed Delta-8 Water Soluble spray
Caution: The effect may be delayed for hours after consumption. Do not drive or operate machinery after taking this supplement.
They are intended only for adults 21 and older. Keep out of the reach of children. Do not exceed the suggested serving size. This product is not intended to diagnose, treat, cure, or prevent diseases.
The Food and drug administration has not evaluated the statements here. THC in this product may test positive on a drug test, which isn't good. Consult your physician before the product use if you are any other above: pregnant, nursing, have a medical condition, or if you are taking any medication.